NIEUW: Shure Axient Digital ADX5D
Shure introduceert de meest recente toevoeging aan de Axient® Digital-familie aan; de ADX5D Tweekanaals Portable Draadloze ontvanger.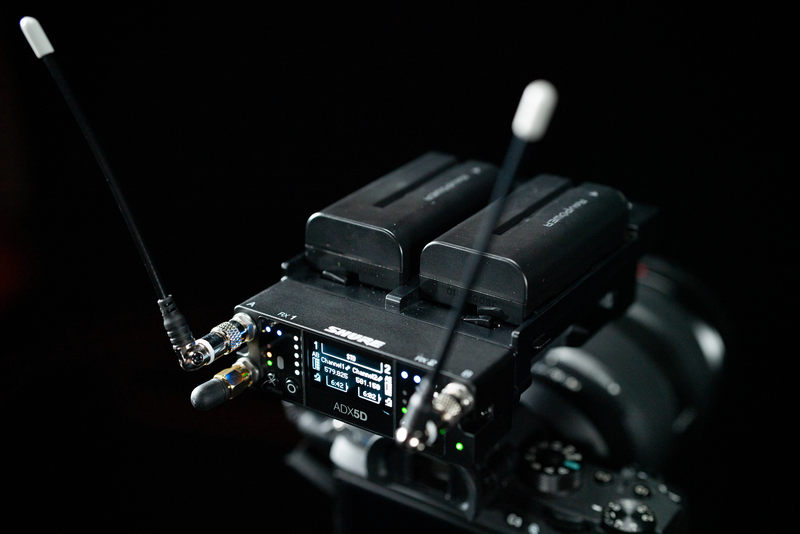 De Axient Digital-systemen zijn niet zomaar producten. Ze beschikken over geluidskwaliteit en robuuste RF-prestaties. Dit zorgt er dan ook voor dat ze probleemloos ingezet kunnen worden in de grootste stadions en meest prestigieuze podia ter wereld. Naast dit alles zijn het ook de grote broadcasters wereldwijd die deze ADX5D gebruiken als het standaard go-to draadloze systeem. De toevoeging van de ADX5D biedt een portable oplossing voor broadcast- en film audioprofessionals.
Superieur, portable en volledig draadloos. De ADX5D tweekanaals draadloze ontvanger lever superieure RF prestaties, spectrum efficiency en transparante audiokwaliteit in een draagbaar slot-in design.
1. Tweekanaals slot-in draadloze ontvanger
2. Breed afstembereik tot 184 MHz (regio afhankelijk)
3. Hoge spectrale efficiëntie dankzij geavanceerd digitaal modulatieschema biedt meer draadloze kanalen in beschikbare RF-ruimte
4. High Density (HD) -modus biedt een nog hogere spectrum efficiency (afhankelijk van de applicatie)
5. True digital diversity ontvangst per kanaal tegen uitval en uitstekend bereik
6. Feilloze audiokwaliteit
7. Netwerkbediening met Wireless Workbench®-software en ShurePlus ™ Channels-app
8. 5-segment Channel Quality meters geven de kwaliteit van de RF-link per kanaal weer
9. Ontvanger uit de ADX-serie met ShowLink Direct Mode maakt het op afstand bedienen van ADX -zenders mogelijk zonder dat externe apparatuur nodig is
10. 3,5 mm audio-uitgang voor aansluiting van een hoofdtelefoon of een gebalanceerde lijningang
11. Uitsturen van analoge en AES3 (48 / 96KHz) audio streams
12. Dual TA3m, Unislot of Superslot connector opties beschikbaar (apart verkrijgbaar)
13. Accessoirehouder met cold shoe adapter (apart verkrijgbaar)
14. Verwijderbare antennes, voorzien van standaard SMA-connectoren
15. OLED-scherm met hoge resolutie
16. USB-C-poort voor firmware-upgrades
17. Gebruiksvriendelijke interface
18. Lage latency, tot 2 milliseconden
Benieuwd naar de Shure Axient Digital ADX5D? Neem direct contact met onze specialisten op, zij informeren u graag!
Meer weten? Klik hier
Terug naar overzicht