Panasonic MZ Serie
Flexibele en betaalbare laserprojectoren voor onderwijs en bedrijfsleven

De MZ serie van Panasonic combineert de unieke Solid Shine lasertechniek met een 3LCD-technologie om intense en kraakheldere beelden te producten, tegen een betaalbare prijs.
Deze serie is speciaal ontworpen voor toepassingen in onderwijs of het bedrijfsleven, voor kleine tot middelgrote ruimtes. Door de bescheiden afmeting en gewicht zijn de projectoren compact en licht in gewicht, een praktische keuze voor klaslokalen of vergaderruimtes. De projectoren zijn zeer stil, stiller dan het geluid van pen op papier, zodat uw publiek niet wordt afgeleid.
De projectoren zijn beschikbaar in 5.500lm, 6.500lm en 8.000lm en bieden een hoge helderheid, WUXGA of WXGA resolutie en een hoge contrastverhouding.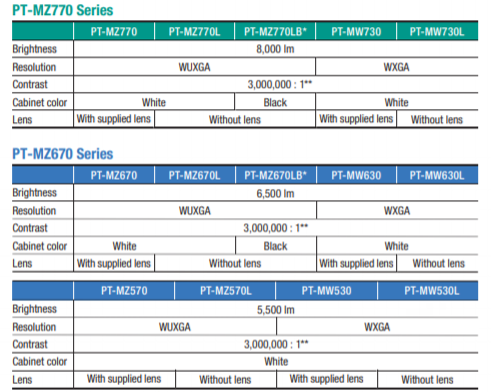 Download de brochure hier. Prijzen kunt u hier aanvragen of neem contact op met ons via info@outputnl.com of 073 639 26 00 voor meer informatie of aanvullende vragen.
Voor de volledige line up aan Panasonic projectoren verwijzen wij u graag naar de Panasonic pagina op onze website.
Terug naar overzicht